Are You Ready to Finally Break Through & Enjoy Real Total Body Fitness Results?
Get started with an effective, reliable & comprehensive approach to fitness & weight loss management!
Are you frustrated with trying one fad diet or infomercial product after another without ever accomplishing your goals?
Does it feel like you live in fear of the scale and the mirror?
Are you looking for a complete approach to health, fitness and weight loss which is actually based on you and your body?
If so, My Closely Guarded Training Program Will Help You Transform Your Body and Change Your Life For The Better!
From: Sandro Torres
Carbondale Personal Trainer
Dear Friend,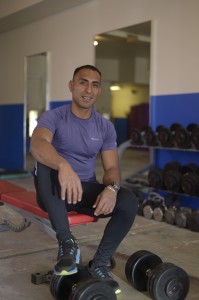 My name is Sandro Torres, and after a decade working in the fitness industry, I knew it was time for me to offer my clients something more — an innovative, comprehensive, and proven approach to deliver real results.
That's why I founded Custom Body Fitness in 2010, and today, remain passionately dedicated to serving my clients and helping them accomplish their fitness and weight loss goals once and for all.
There's no such thing as a one-size-fits-all solution for health and fitness. That's why our program is entirely personalized for you, your body and your goals.
You'll benefit from an approach that is much more than simply training at the gym. We provide you the healthy lifestyle tips and nutritional insight you need to succeed out of the gym as well, and offer a combination of training approaches which offer both fat loss and muscle building.
Our innovative workouts offer a fresh and fun approach to fitness, and you'll be amazed at the quick results you see. You'll be motivated from our group environment while still receiving the personal attention you deserve.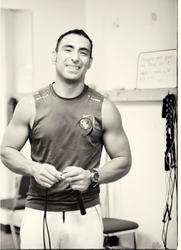 At Custom Body Fitness, we know that the only way to get the body you want is by changing your lifestyle, and we have the tools you need to achieve those goals. We'll deliver real results, both quickly and over the long haul as well, and you'll look and feel at your best, enjoying a healthier and happier life.
Get started with our personal training and weight loss management and we guarantee you'll experience great success.
Hi, My name is Sandro Torres. I am a certified personal trainer and the owner of Custom Body Fitness Carbondale, Colorado. I've been involved in personal fitness training since 2008.
Before
After
Karen Odom
"I look like I did at age 30 when I felt like I was at my peak."
Custom Body Fitness is unlike any other work out facility. Sandro, the owner, first sets up a meeting to assess your goals , he weighs , measures and talks about your diet and fitness level. When you start the classes they watch everything you do to make sure your form is correct and to see just how strong you are. It is like a personal trainer in a class setting. With so much personal attention you feel the difference much quicker. Sandro and his team are excellent at showing everyone the best way to get the best results. From the very beginning you see results and feel stronger. There is so much support and encouragement from the team and from all of the members. Since I started last May I have lost 9 pounds, gained almost 4 pounds of muscle and lost over 13 pounds of fat. For a tall, lean person who just turned 57 I can honestly say the difference is amazing. I look like I did at age 30 when I felt like I was at my peak. I would certainly recommend Custom Body Fitness to any age group and any level of fitness. Thank you Sandro, Erick, Estela and Naomi for being so awesome and making everyone who walks in the door feel so welcomed and supported.

Before
After
Curtis Odom, Architect, Carbondale, Colorado
I have lost 3.5 pounds of fat and I have gained 8.5 pounds of muscle. I'm very happy with the results from coming to CBF.  CBF's staff is very attentive and supportive during sessions, as well as helping motivate us! I have been in too many gyms and health clubs- CBF is very different due to the individual attention, the programs of exercise, goal making and assessments. The commitment of Sandro and staff, the friendly atmosphere (not intimidating like many other gyms) makes CBF special. In addition, CBF focus in the "big picture" exercise, diet and lifestyle. It is like having a personal trainer but at much less cost! I absolutely recommend CBF.
Before
After
Dana Reynolds
"I lost 20 pounds in 4 months!"
I'm very happy with the results. I have increased where I thought I could go because I saw what I was able to achieve in a short 4 ½ months.  I have lost 20 lbs of body fat in 4 ½ months at CBF!  The assessments have been a huge part of my success at CBF. Sandro has helped me identify areas that I was not looking at and has turned my focus towards health and fitness versus a "quick fix" of weight loss.   While my original goal was to lose weight, my current goal is true fitness, both mind and body! Sandro and his team know what they are doing.  Our weekly routines are challenging and we have fun! There is a great sense of family and we all encourage each other.
There is great attention to you as you are working out to make sure that you are positioned correctly. The staff knows what I can do and lift and pushes me to the next level. I need that because I was not doing this on my own.  I love feeling strong, confident and healthy. Would you recommend Custom Body Fitness? I absolutely recommend CBF. I needed a push at this time in my life and found it here!! Sandro Has an outstanding knowledge!  He understands and knows how to help you achieve your goals.  I have improved my eating habits. By the way, Sandro's new book is excellent.  I go back to it and re-read it from time to time to stay motivated and focused on my goals.
Before
After
Guadalupe Revilla
"I lost 40 pounds!!"
Before
After
Anders Hansen
"I Lost 18 Pounds In 4 Months"
I have lost 21 lbs in 6 months at CBF! Custom Body fitness has helped me by setting clear goals and establishing a framework to achieve those goals in smaller intervals has made it a fun and attainable process.  I like how my whole body gets a work out, upper and lower body as well as cardio and core strength. My body feels balanced and well rounded in all the exercises we perform.  I recommend CBF for anyone looking to improve their life, whether your goals are to lose weight, or look and feel better about yourself.  Sandro and Erick are very attentive to form and performing the exercise properly. It is easy to "cheat" the process by not using the correct muscles and motions. When we do an exercise correctly, we get better results and avoid unnecessary injuries and wear and tear to our bodies. Also, they are great motivators who challenge where we are at and help us strive to push our limits to succeed in our goals.  I am very happy with the results I have achieved at Custom Body Fitness. I have a fresh outlook on my health that I can maintain through a proper diet and exercise. I have much more energy and a more positive outlook on life.  this is the best fitness
Before
After
Naomi Orterga
"I lost 10 lbs. and 4% body fat in 24 days…"
CBF helps me to stay motivated trough every session and on track and focus every day. The different workouts have kept me entertained and it makes it easier to start every week. CBF's members have a positive attitude. Sandro is a great motivator and has been able to push me to work harder every time. I like that he is very involved in everyone's progress and sheers every member individually based on their capabilities. He acknowledges ever member's strengths and weaknesses and turns it into something great. Also, the great attitude, the flexibility the trainer has. The good workouts and monthly evaluations keep everyone motivated. I absolutely recommend CBF. I talk about it to all my friends and the people who have seen my progress. Most people are concern with past injuries and other problems or excuses. I totally recommend Custom Body Fitness to them because I know Sandro is great on addressing this type of conflicts. I'm very happy with the results. I have achieved my goals sooner than I expected, but it wouldn't been possible without the help of Custom Body Fitness and staff.
Before
After
Anonymous
"Lost 11 pounds!"
I lost 11 pounds and over 6% of body fat. I love Custom Body Fitness. I love the exercise routing and the results keep me motivated.
Before
After
Kyle Wolf
"I lost 21 pounds and over 10% Fat."
"I like Custom Body Fitness because I like having a different workout every week and working each muscle group every session and Custom Body Fitness provides that. Plus the trainers, Erick and Sandro are great teachers and encouragers. They hold me accountable in hitting my goals. I am extremely happy with the results and excited to keep going and get even better results. I lost 14 pounds and over 5% body fat the first two months and now, after 4 month, I have lost 21 pounds and over 10% body fat! I have recommended Custom Body Fitness to several people and I will continue to do so. It has been great for my wife and I to workout at CBF together 3 times a week. Thanks Custom Body Fitness!"
Before
After
Mike Leatherby
Age is only an excuse
"I lost 24 pounds in my 60s"
"CBF provided the structure, expertise, and encouragement to exceed my goals for body health. CBF reinforced the motivation I came with to make a change in my life for the good. CBF is close to my work place and has a schedule that works well for me. Sandro and Erick provide the proper guidance for safe and fun workouts. I always recommend CBF to anyone serious about making a positive change for health and well-being. It always comes back to you. You have to want this more than your current state of affairs. CBF can help you get there. Consistency and hard work will give you results. If you try to cut corners then you're only hurting yourself. I'm very happy with my results. I have lost 24lbs in 6 months. I have exceeded my weight goals in a relatively short period of time (24lbs in less than 8 months) which has only motivated me to go further to see what can achieved, by the way, I'm 61 years of age.
If you choose to go down this road know that there is no turning back. It all begins with the Desire to make a change. The Desire inspires the Will which in turn springs you into Action. Action turns into Hard Work which begets Results. Results start small, with great returns waiting in the near future. As you realize the results, whatever size they come in, confidence begins to grow. That confidence steers you to the knowledge that you can do most anything if you just have the Desire"
Before
After
Amy Smith
Business owner and mother of twins
"Lost 14 pounds and less than 2 months!"
"I had twins about 9 months prior to beginning my journey with weight loss. I began exercising and following a diet on my own at home.  About 2 months in, I had lost 20 lbs. and then nothing was budging – I agreed with some skepticism to join CBF for a one month trial – BEST decision ever!! Accountability is the key to reach my goals.  Exercising at home wasn't enough; I needed a coach.  I needed someone to encourage me and show me I was capable of pushing harder.  I needed a coach who helped me identify my goals.  Every day I look forward to working out with Sandro and Erick, the positive energy from other team members is very encouraging too. What I like about CBF is the regular schedule, familiar and new faces, and of course the results I am getting.  I recommend CBF all the time!  I have been complimented so much in the last 2 months on how much my body has changed.  I say thank you, but I instantly tell everyone how I have been able to make these changes and who is responsible for helping me. Sandro shows compassion to truly help others.  It's a beautiful thing that each client is a valued friend.  There is an investment made in each client to help them find health and happiness, and this investment comes with true support; not just motivation but guidance and compromise to help you reach your goals in a way that works best for you.  I am truly thankful to have this friendship! Another future of CBF is flexibility.  There are many opportunities each week to fit in your workouts.  Me, a working mother of 11 month old twins finds time to hit CBF 3 to 4 times a week! I couldn't be more thrilled with the results!  I feel more confident, I feel beautiful and I can't wait to see what changes the next month will bring. I have lost 14 lbs. in approximately 2 months! I have learned a new dynamic of exercise, met some incredible, strong and lovely people, and look forward to see the smiling faces I have come to know and respect at CBF."
Before
After
Edmundo Guerrero
Busy father of 2 children
"Edmundo lost 9 pounds..."
"Custom Body Fitness Has helped me increase my self-confidence and trust myself at my fitness program as well in other areas of my life. It pushes me to keep working out when I would stop if I were working out alone. Custom Body Fitness makes me more responsible when it comes down to what I eat and the time I eat. In other words, it helps me with my eating habits. I would recommend Custom Body Fitness to anyone who wants to be in shape. I'm happy with the result, but still have a long way to go. I have lost 9 pounds."
Before
After
Fredy Rodriguez
"I like everything about CBF. I like the support, the motivation, the ambiance of the groups. I also like the attention of the trainers who help me to push more and make sure that I'm doing the exercises right. I'll recommend CBF to everyone who wants to live a better and healthier life, who wants to progress in their lives. Sandro and Erick do care about people. They give you unconditional support. They do not pick favorites, but everyone is their favorite. They pay attention to everyone not caring about their sex, color, or nationality. They always pay close attention to my form and they make sure I'm doing the exercises correctly. I'm very happy with the results! I have lost 24 pounds in 70 days and I'm excited to keep achieving more of my goals."
Before
After
Jared Kennedy
"After having two surgeries on my shoulder, I started working out with Sandro at Custom Body Fitness. The original goal to build up my strength in my shoulder and get it back to full strength. However, I saw result throughout my whole body from losing 30 pounds, seeing muscles I have never seen before and building up confidence to walk around with my shirt off. What helped me the most wasn't the gym or the weights; it was having Sandro push me past my limits with his sunny personality and "you can do it" attitude. If nothing in life worth having comes easy then the road ahead to reach my next goal is going to be worth the effort."
Before
After
Mila Fomila
"I lost 10 lbs. and my body became more toned. I would like to say thank you Sandro Torres and I would recommend to everyone, who would like to change their body in a better way, to train at CBF. Sometimes if you are working out alone, you may not know if you are exercising properly. Sandro is always motivating, guiding me through the exercise process perfectly, helping me to build my abilities correctly and giving lots of suggestions how to stay fit through diet and daily life habits as well. I should mention that CBF program has variety of interesting and fascinating exercises such as weight lifting, cardio and stretching system that helped me be in shape. In conclusion, I can say that I am happy with my result!
Sessions at Custom Body Fitness with Sandro Torres will help you feel better!"
Lose weight, build muscle and tone up your stomach and butt
Look and feel at your all-time best
Benefit from a comprehensive and customized approach for training, weight loss, nutrition, and lifestyle
Custom Body Fitness helps you see real results with dedication, discipline, passion & commitment
Custom Body Fitness
Small group training offers affordable prices combined with personal attention and support
Customized programs based on each person's body and goals
Innovative and exciting range of exercises including body weight, band resistance, kettlebells & more
Maximize results with both calisthenics and high intensity circuit training
Food journals, nutritional guidance, and eating habit consultations
Healthy lifestyle tips & training
In-depth body assessments to monitor progress
Educated, experienced & friendly personal trainers
Flexible schedule makes it easy to fit into your routine
One month money back guarantee!
We show our clients dedication, discipline, passion and commitment, and that's what each and every person in our gym helps everyone also achieve as well. We'll help you stay accountable and committed, and continue to push past obstacles and reach new heights.
You'll enjoy a friendly and motivating environment where everyone is on the same page. Most importantly of all, your goals and the results you see are what we're focused on. With our innovative and in-depth approach to total body health, fitness, nutrition and weight loss, you'll finally reach the goals you've always craved.
Custom Body Fitness
One-on-one attention combined with affordable group training prices
Personal training, weight management, and healthy lifestyle tips all in one
Customized programs and in-depth personal assessments
Other Fitness Programs
Group classes offer no personal support, and personal training is outrageously expensive
No focus or attention on healthy eating, nutrition, and living a healthier life
One size fits all solutions which aren't about you and your goals
Before
After
Anonymous
"I lost 13 pounds in 2 months!"
Before
After
Melissa Messer
"I lost 40 pounds in 5 months!"
I've lost 40 lbs. I'd been stuck in a rut trying to lose baby weight for almost 5 years and needed some motivation and support.  Now I feel healthy and confident and couldn't be happier with the results. CBF helped me set weight loss goals- set a long term goal and then break it down into achievable steps. The monthly assessments made me accountable for the goals I set and reviewing the progress I made each month gave me more motivation to continue. I really enjoy the workouts at CBF. I feel confident that I'm getting a good workout every time. I'm always excited to see the new exercises every Monday. Sandro, Eric and Estela watch carefully to make sure the exercises are completed safely and remind me to move up weights when I'm ready. Not to mention that the classes at CBF are small so you get plenty of instruction from the coaches. All the coaches really care about you and want to help you achieve your goals. I would definitely recommend CBF.
Before
After
Alejandro Peña
"I lost 32 Pounds!"
Custom Body Fitness supports me and gives me personal time.  They give me legitimate information about eating habits and how to improve my body. What I like about CBF is the motivation that the trainers have given me.  Also, I like the individualized approach the trainers provide.  Even though we are in a group, they pay attention to all of us. I'm very happy with the results. I have lost 32 pounds of fat.  I would recommend CBF to anyone who wants to start a new life!
Before
After
Anonymous
"I lost 11 pounds"
Custom Body Fitness has helped me by creating goals and becoming more disciplined with my eating habits and exercise routine.  What I like the most about CBF is the energy and motivation of the trainers.  The trainers at CBF are genuinely interested in helping people reach their goals. I have lost 11 pounds in 3 months and I'm very happy with the results.  I recommend CBF to anybody who wants to lose weight and get in shape.
Before
After
Michelle Greenfield
When I came to CBF, I needed to "jump start" my fitness again.  I also wanted to loose fat and firm up. I have been able to achieve all of that in the last 5 months. I have reduced by my body fat by 4% and increased my lean body mass.  My body is much more toned and all of my clothes fit much better. I especially notice the loss of inches in my torso and a lot more core strength. I love that each week the mix of exercises is different – it does not get boring! Sandro and his staff are super positive and motivating, and they have a genuine concern for all the members.  Sandro is full of love and care for each person.  Walking in there and getting hug, a smile and a "Welcome my friend!" just makes you feel good, even before you start your workout.  Sandro helps each person keep their motivation to exercise by meeting with them monthly to do an assessment, helping each member set their individual goals and them keeping them accountable to those goals.  That is a virtue beyond just the exercise that makes this place unique. I look forward to each  new week of exercise, wondering what we will be doing and anticipating not just hard work but some fun also.  Even though it is a group exercise program, he works with each individual to determine their own objectives. It is not a competition with other people, but he does challenge you to set your own milestones and helps you achieve them.  I am very happy with the results. I would recommend Custom Body Fitness, for sure!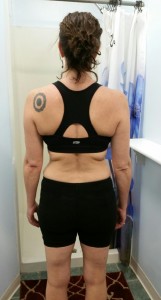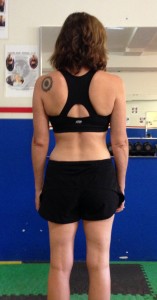 Before
After
Natalia Nevarez
"I can see weight training as always being a part of my life from here on!"
The knowledge and understanding of fitness and nutrition that Sandro has is helping me reach my goals. He changed my diet, talked about nutrition, explained me things with a lot of patience and introduced me to exercises I would NEVER have tried on my own, like deadlifts, that's my favorite workout! He also helped me understand that each person is unique with regard to what can be achieved and how long it takes to achieved it, so I stopped comparing myself to others and started focusing on getting stronger and trying to be the best I can be. Now I look forward to my work out each day and have become totally addicted to exercise.  Since I started working out at CBF, I have noticed several positive things, my body fat percentage dropped quickly. I'm building muscle. I feel great and happy with my results!
Sandro and Erick are super helpful and motivational. The group atmosphere keeps it fun and it's never boring. For me this is the best fitness program I have ever done!
I could not recommend this enough to people who need some motivation to get fitter, healthier or leaner. This is money well spent and something that can change your lifestyle for good, not only with exercising but also with eating properly and feeling happy with yourself.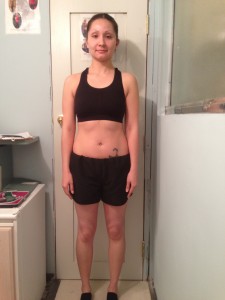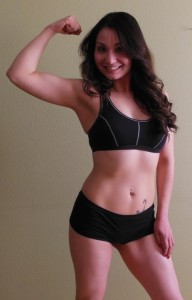 Before
After
Edwin Meraz
"I went from 10 to 7.5% body Fat, adding 7 pounds of muscle!"
Custom Body Fitness has helped me reach my goals by keeping me healthy, feeling great physically and mentally. It has helped me reach my goals even outside the gym. I can apply what I have learned here at CBF, in any area of life, which is to push myself in everything I set my mind in.  What I like about CBF is that they focus in helping me by pushing me and making sure that my exercise form is looking great. Coming at CBF has really helped me become disciplined inside and outside the gym.I really like our trainers because they motivate me to keep trying to reach my goals. Sandro treats me like a good friend and is always putting in his time to help me. I would recommend this place to anyone who is looking for results and looking forward to being successful. I gained 7 of muscle pounds which I felt extremely great about it since my goal was to gain muscle mass.  My fat levels went from 10 to 7.5%. Thank you CBF!
Before
After
Katy Nardecchia
"I have always been active, but I've never worked out in a way that I have the past three months at Custom Body Fitness. My body has become toned and shaped in ways I didn't know were possible! Most importantly though, I feel great! I feel strong and fit and I notice a difference in all the activities I do outside of the gym – running, skiing, biking and hiking. I love that Custom Body Fitness provides a workout program that meets the needs of a diverse group of people. No matter if you're fit or out of shape, just started going or have been going for years, the workouts are always challenging. The environment is supportive and fun and I never miss a workout. Because the workouts can be adjusted to accommodate all levels of fitness, Custom Body Fitness is a great place for everyone! The group training environment creates accountability and the results are worth it. One of the greatest things about Custom Body Fitness is how positive an environment it is. Sandro has a positive and encouraging attitude towards all of his clients and pushes everyone to achieve their own individual goals. There is no sense of competition or anyone being better, stronger or more fit than anyone else – we are all there to achieve our own desired level of fitness. Custom Body Fitness is obviously focused on fitness, but I appreciate Sandro's ability to consider the whole person. He has helped me to think about my goals, my lifestyle, and how I spend my time. It's become more than a fitness program for me. I'm very happy with the results from my fitness program! I didn't have specific weight loss or body fat loss goals when I started, but it's great to see my improvement on a monthly basis. As I said before, I feel great, I'm having fun, and I'm committed, and that's what matters the most. I have lost a few pounds, but my body composition has shifted significantly in only three months."
Before
After
Sarah Tornare
"Sandro has helped me to stay focused and to keep working at it. He is always VERY encouraging. I love the energy in here! Everyone is very positive and the classes are "fun" but very challenging! I would absolutely recommend Custom Body Fitness! Great energy and Sandro is actually quite knowledgeable. I think he is a good student and is always studying to improve himself and the business for his clients. He is very committed to each and every one and treats everyone the same. I'm happy with the results and the assessments are very important for that. They show you exactly where you are gaining – or losing. I have lost 8 pounds on the scale, but my main goal was not weight loss, weight loss was extra. I am just very happy that I decided to commit to this to try to change my body and also my lifestyle. I enjoy being around Sandro and all his clients and (mostly) look forward to going to class. Thanks, Sandro, you are the best!"
Before
After
Nilsa Perez
"Custom Body Fitness is a supportive community and people in the groups do keep me accountable. Sandro is always looking for the physical benefits of the Custom Body Fitness' members. Sandro is always encouraging me to do better. He always designs challenging exercise programs. I love Custom Body Fitness workout programs. I can also say that I love the patience that Sandro demonstrates. In addition, I like the atmosphere that Custom Body Fitness has; it is very motivating. And of course, I love the results that I have acquired. I completely recommend Custom Body Fitness because I'm personally proof that the program creates results and I like the discipline I'm following. I would like to say that you should give yourself the opportunity to try it and increase your fitness level and improve your lifestyle."
Before
After
Elizabeth Valencia
"Custom Body Fitness has helped me to follow a discipline. I have learned to eat healthier and to be more positive in my life. Sandro motives me and since I have been coming to Custom Body Fitness, my life has changed in a positive way. I like everything about Custom Body Fitness. The exercises are fun, people are very supportive, the atmosphere energetic and I like the attention that Sandro provides me. I recommend Custom Body Fitness to any one 100% because if you have a goal to change your body, you will achieve it here. I'm very happy with the results. I have noticed many changes in my body and my peers always complement me about my body changes."
Before
After
Nevi Mariadi
"My husband and I have been members of custom body fitness for eight months. We both love Sandro for so many reasons. He gets me pumped up and ready to work. Everytime I go to class he challenges me. Consequently, I challenge myself. Sandro is the best personal trainer I have ever met. I know that the progress I have made would not have been possible with out him motivating and supporting me. I know that if I keep attending his class there is no limit to the level of fitness I can acheive. Take it from me, Custom Body is the only investment that matters. In addition, as far as I can tell, Sandro has made Custom Body Fitness the focus of his life. When I'm at the gym, I feel like I'm the focus of all his concern and experience. "
Before
After
Matthew Graham
"I have been a member of Custom Body Fitness for nearly eight months. During that time I have lost 20 pounds and remarkably improved my health. I have greater stamina and strength. More importantly, I now have the confidence to push myself and work out even harder. I could not be happier with the results. Frankly, being a member of Custom Body Fitness is exactly like having a personal trainer. Sandro always motivates me to continue working out pushing myself. Furthermore, the class schedule is diverse and accommodating. I know that going to Custom Body Fitness will help me to reach my goals. "
Before
After
Mario Santos
"Sandro Torres is a great motivator, instructor and he is dedicated to his work. He is always giving me new information about training and having a healthy life. He also answers the question that I have about fitness. I like Custom Body Fitness because it teaches me discipline; the exercises are fun, broad and whole which they target all muscle groups. I used to exercise at home, but my old exercise is nothing compared with CBF's exercise programs. Plus, I have met new friends who are also dedicated to reach their goals. We all together support each other. CBF has helped me in many ways and I have lost 10 pounds. I will recommend CBF to anyone who wants a committed team of professionals to help in the loss weight journey. I'm very happy with the results. Thank you Custom Body Fitness and Sandro Torres."
Before
After
Jorge Diaz
"Custom Body Fitness helped increase my self-confidence. It helped me understand not to give up until I reach my goals. Custom Body Fitness is always there when I need support. Sandro begun me with the lowest intensity and now he pushes me to my highest potential which it helps me adhere to my program. I recommend CBF to everyone who wants to increase their physical appearance, health and fitness level. I noticed results within weeks! I believe Sandro is a great trainer. He is always giving me quality time and, when I need assistance, he is always there for me. CBF is the best because of its personal trainer, exercises and because of the assists and interest that Sandro invest in his clients. I'm very happy with the results and my weight lost that I even feel better with myself and I have more energy than ever. I already lost 20 Lbs. and I'm going for more!"
CLICK HERE to register for our comprehensive training &
weight management program or call (970) 510-0151
At Custom Body Fitness, we pride ourselves on delivering real results for all of our clients. You receive much more than training alone, we offer personal assessments, weight management, and the lifestyle tips you need to be healthier and happier. We're confident that when you begin our program, you'll enjoy great success, and that's why we're offering this very special ironclad one month money back guarantee.
One Month Money Back Guarantee
Sign up for our group training program and make a commitment to stay on track for one month. If you're not satisfied with the progress you've made, and the way you look and feel, then we'll offer you a complete refund. That's one full month of free training and other program perks if you haven't enjoyed the results you were expecting.
CLICK HERE to register for group training with Custom Body Fitness or call (970) 510-0151
If it seems like you've tried it all and you've never reached your goals, then don't give up. Custom Body Fitness will get you there with our personalized and comprehensive approach to training and weight loss management.
After just a few training sessions, you'll already begin to see results. And with our monthly assessments, you'll be astonished at your progress and how much your body has changed.
We're confident that once you get started with Custom Body Fitness, you'll never need another gym or trainer again. We guarantee that we'll deliver results for you, and that you'll thrive in our motivating group training environment.
When you've been searching for the tools to finally succeed with fitness, weight loss and a healthy lifestyle, Custom Body Fitness is the only program you need.
Sincerely,
Sandro Torres
Owner Custom Body Fitness
PS. With our trial month if you're not satisfied, there's absolutely no risk to
get started. It's time to change your life, and look and feel better than ever as you accomplish all of your fitness goals. We'll see you at the next session, and we guarantee we'll deliver real results!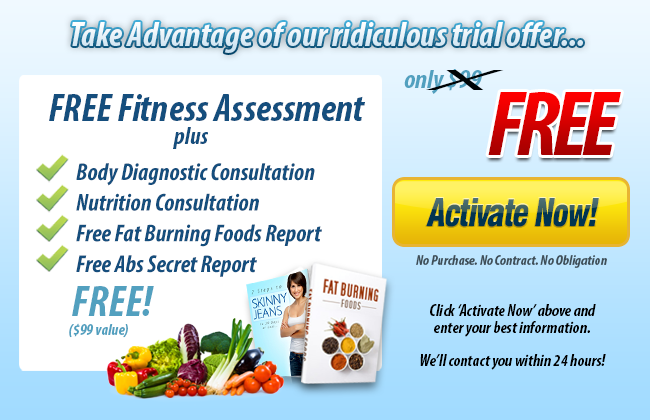 Custom Body Fitness primarily serves the following areas:
Carbondale, Glenwood, el Jebel, Basalt, Snowmass, Aspen, Silt and Rifle
with customized personal training, weight loss, and nutrition program however we also serve areas in these Zip Codes:
                                                    81621, 81623, 81601, 81611, 81650, 81652, 81615